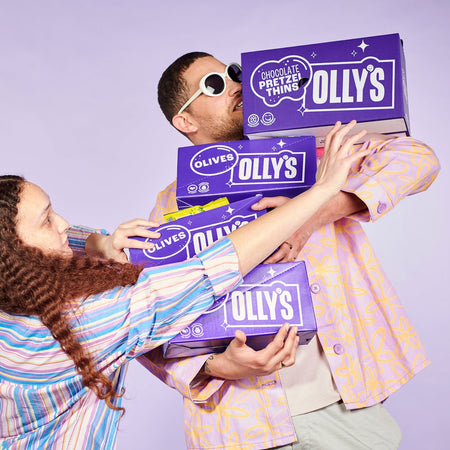 Oll-timate Snack Bundle
For the serious snackers... a mega combo of all our delicious creations. 20 Packs of Pretzel Thins - 12 Pouches of Olives - 4 Pouches of Choco Pretzel Thins!
You'll be donating a meal with this order. Learn more on One Feeds Two
WHAT'S IN THE BUNDLE?
Sit back, relax and bathe in this treasure chest of snacks. :)
5 x Salted Original Pretzel Thins (35g)
5 x Multi-Seed Sesame Pretzel Thins (35g)
5 x Sour Cream & Onion Pretzel Thins (35g)
5 x Oh So Cheesy Pretzel Thins (35g)
2 x Milk Chocolate Pretzel Thins (90g)
2 x Dark Chocolate Pretzel Thins (90g)
4 x Garlic & Basil Olives (50g)
4 x Chilli & Rosemary Olives (50g)
4 x Lemon & Thyme Olives (50g)