IT'S OLLY
Thanks so much for taking the time to visit our website and explore our snacks. I take it you've landed on this page because you wanted to find out a bit more about our story (or just clicked the wrong button!), well here it is either way...
Meet Olly.. yes he is real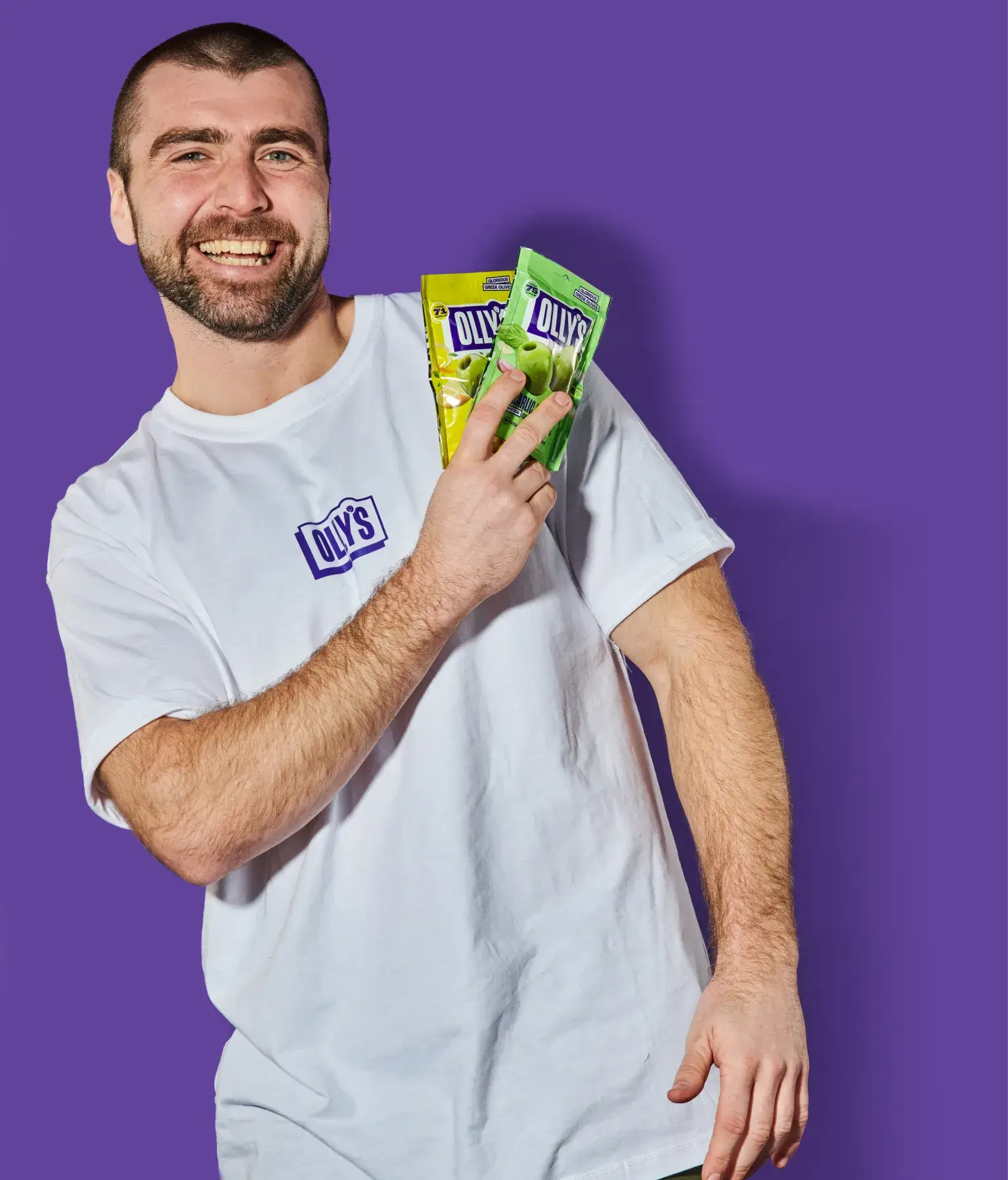 From the kitchen table
to FARMERS MARKETS
When i was a young optimistic olive lover who wanted to rejuvenate the world of olives with new flavours, colour and character. I began marinating olives in my kitchen (to my parents' dismay) and selling them at farmers markets.

People loved them, in fact they loved them so much I decided to pivot away from my path to becoming a doctor and focus on olives (to my parents' dismay again!). My brother Sam, and close friend, Yingdee, decided to join forces with me for the journey. And the HMS Olive set sail…
THE FIRST PACKS HIT THE STREETS.. AND AIR
We launched our first ever olive snack pouches and across the next 3 years we continued on our mission to bring smiles to as many faces as possible with our olives, and we did just that, landing stockists across the UK and internationally. Our garlic & basil olives were even the official olive on a number of airlines!
New product
"LET'S JUST LAUNCH
MORE SNACKS!!"
With the olives now in the full swing of the feeding planet's feel good, we thought it would be rude not to bring more delicious snack creations to the people. And that's exactly what we did… Across the space of 18 months our range of snacks grew from 3 to 14, with the birth of our nut mixes, pretzel thins and chocolate covered pretzel thins! And... we even launched a beer, BECAUSE WHY NOT?!

The things I'm continually grateful for, is our incredible team and our amazing community (our FAM-OLLY). We now have 10 of us including my little sister, Ella, and an office we call home, slap bang in the middle of London's Brick Lane. It's got our logo on the door and everything!
AND THAT BRINGS US TO NOW
While it's important for us to keep health at the forefront of all the snacks that we create, for us the number 1 focus is on the taste experience, as a snack is nothing without massive flavour and mouthwatering taste.